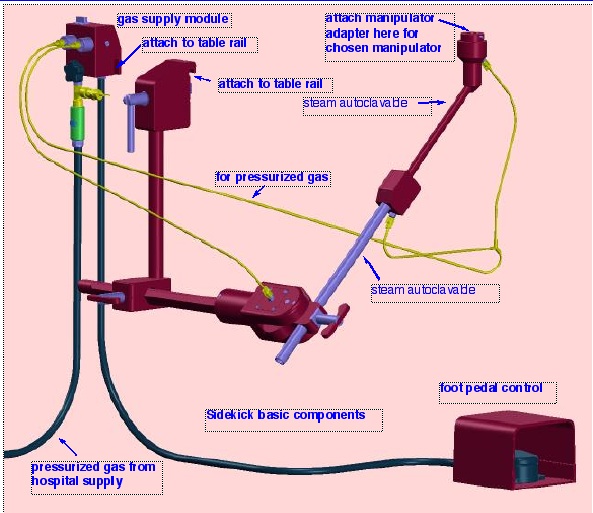 The Kronner Side-Kick Uterine Manipulator Holder firmly holds the Vcare and other uterine manipulators during laparoscopic surgery on female pelvic organs, thus freeing staff for performing other tasks. The Side-Kick does not interfere with re-positioning the uterus with the attached manipulator.
The Side-Kick is attached to either operating table rail behind the leg stirrup attachment.
The manipulator is inserted into the patient using standard technique, then the Side-Kick is joined to it.
With proper adapters the Side-Kick may be used with various other manipulators, such as the RUMI and the Arch-Koh.
A gas supply module, which can also be attached to the operating table rail, transfers nitrogen or compressed air from the hospital wall or portable tank to the Side-Kick through two flexible lines. When the module switch is turned off the Side-Kick joints are decompressed.
Pressing a foot pedal, that is connected to the gas supply module, releases all the Side-Kick joints for position changes. When the foot pedal is released the joints lock.
A branched gas line connects the supply module to two luers of the arm assembly. A single gas line joins the gas supply module to the main pivot luer.
Only the arm components and adapters are steam sterilized. The disposable gas lines are supplied sterile.
Part Number: KSK-5000, includes one adapter.
Adapters for manipulators, Vcare, Rumi, Arch Koh